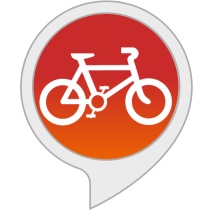 Fahrrad Finder (bike finder) is an app/skill for Amazon Alexa that I'm currently developing. It returns the address and distance of the nearest rental-station or free floating bike inside a radius of 5 kilometers. Currently, it supports all bikes serviced by nextbike in Germany. However, it is not an official skill or associated with this or any other company. The skill needs the permission to retrieve the device's address. For an accurate result, the address should be configured properly.
In a previous post, I've written about building Alexa skills with Python and Flask-Ask. Combining this with my (ongoing) work on the Cologne rental bike system resulted in the idea for Fahrrad Finder. There are quite a few more features that I have in mind for the skill. Consequently, it is a work in progress and I'd appreciate any feedback and suggestions at ff@data-dive.com
Recent changes:
| Date | Feature |
| --- | --- |
| 2017-05-14 | - switched to google geocoding API for improving address recognition |
| | - show a card asking for permission to access device location on home screen of Alexa-App |
| | - more specific error message if the device address is entered incorrectly |
| 2017-05-05 | - successfully certified by Amazon: initial release now live in the skill store! |

Planned changes:
- Add support for Deutsche Bahn call-a-bikes


Update: Version 2.0 is finished. Now, the skill supports not only all Nextbikes but also all Deutsche-Bahn Call-A-Bikes. I'm waiting for it to pass the certification process. Hopefully, it will become available soon!